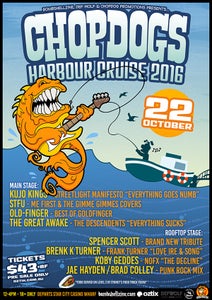 $

40.00 - On Sale
**Early Birds Sold Out** - Now available from OZTIX (https://tickets.oztix.com.au/?Event=66226)
Watching cover bands never really seems that exciting until you've seen a bunch on a 4-hour voyage of Sydney Harbour. For the second time this year, bombshellzine.com & Chopdog are teaming up to deliver a rock/punk/ska cruise across the harbour full of sing-a-longs, good food, beer and great times and it's all happening Saturday October 22 from 12-4PM.
We've gotten the skank back in us and somehow talked Melbourne's THE KUJO KINGS into performing STREETLIGHT MANIFESTO's Everything Went Numb from start to finish and all we can say is, good luck with that. Sydney's THE GREAT AWAKE will be taking on 1996's Everything Sucks by THE DESCENDENTS and it's sure to be a ripping sing along. Newly formed pop crust band STFU will be performing the very worst of ME FIRST & THE GIMME GIMMES and too round it off, the all-star band OLD-FINGER will be smashing out a very best of GOLDFINGER set.
On top of this on the rooftop SPENCER SCOTT will be giving us a BRAND NEW covers acoustic set, JAE HAYDEN will be tearing up a classic mix of 90's punk covers, Ivan Drago's BRENK K TURNER will be playing Love, Ire & Song from FRANK TURNER start to finish and more acts are still to be announced
Delicious Food will be provided by one of Sydney's best food trucks on level 2 and 100 x $40 no booking or shipping fee early bird tickets are on sale now via chopdogmerch.bigcartel.com. When sold out will be on sale via oztix for $43 plus fees.
OCTOBER 22
12-4PM
DEPARTS STAR CITY CASINO WHARF
ARRIVE AT 1130AM FOR WRISTBANDS
NO DOOR SALES, PRE SALE ONLY
PRESS CONTACT LUKE.GRIFFIS@GMAIL.COM